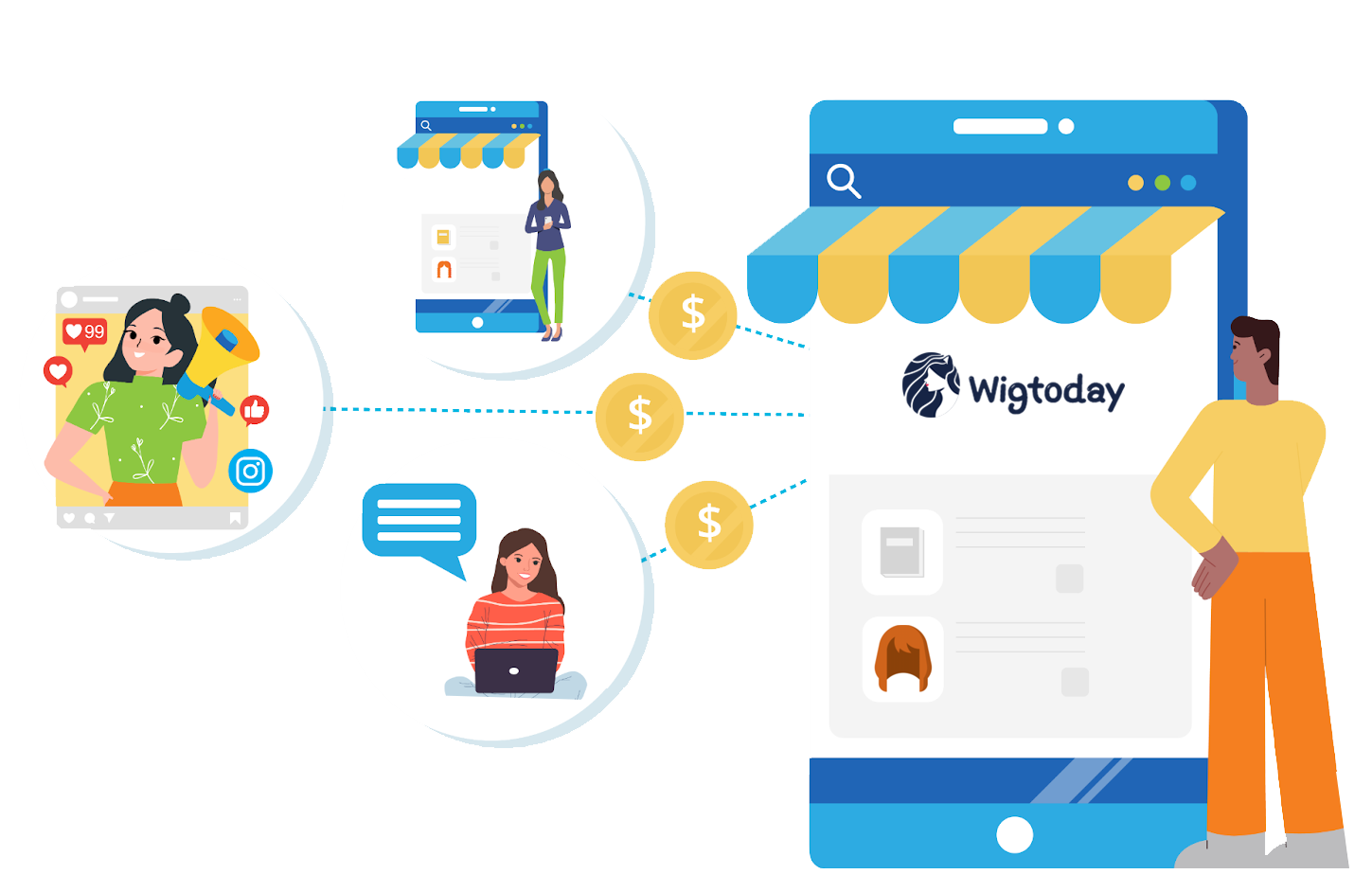 BENEFITS
Exclusive coupon code to share with your followers and earn rewards
• 5% - 10% commission for every qualified sale* made via your referral link or code
*Qualified sale = a sale that was not returned or fraudulently purchased, and that was purchased with a processed valid payment
• Free in-stock products of your choice
• Opportunity to get featured on wigtoday website and our social media
Opportunity for further sponsorships and partnerships.
How does Wigtoday Affiliate Program work?
1. Sign up on Wigtoday Affiliate Program here. Then verified your registered email.
2. You get a short affiliate URL from tools or CSV feed for wigs and tracking your commissions report too.
3. Place Wigtoday.com affiliate links or banners on your website, blog, facebook, twitter or forums.
4. You can design link suitable to your website or exclusive CSV feed- or choose from the listed selection provided by Wigtoday.com.
5. orders generated from your link will be recorded as your sales.
6. Commissions are available for Paid orders. You can withdraw your commissions anytime.
Bonus points if:
• You have experience with wigs, hair toppers, hair systems or hair extensions
• You have thin hair or hair loss, and you would like to create content about it
WHAT WE'D LIKE FROM YOU
Instagram influencer
2-4 image post/2 story video upload to your Instagram account, according to free sample quantity.
Please tag and @wigtodayshop related accounts in your Instagram posts
Youtube influencer
1 dedicated video runs over 8 minutes to promote wigtoday wigs or 2 pre-rolls,per pre-roll runs over 3 minutes.
Include all the product info, your referral link, and your exclusive code in the post if your content is for YouTube.
Tiktok influencer
• 2-4 tiktok story video, per video runs over 50secs. Please tag and @wigtoday related accounts in your tiktok video title.
• The content should be positive and encouraging. Please do not include any vulgar or sensitive words in the content
• All content should be emailed to wigtodayshop@gmail.com once you have posted
DEALLY YOU WILL BE
Target country: european and american countries
Active on several social media platforms
Have at least one social with:
Instagram: 3,000 + followers ,YouTube: 1,000+ subscribers
TikTok: 1000+ followers Blog: 2,000+ views on your blogs
Your content will be hair,cosplay, ASMR,fashion or beauty related
You'll follow wigtoday social media channels (essential!)
Note:
1. Any affiliate code posted on to a third-party coupon site will void the code and eligibility for commission payment
2. Complimentary content creation product selection is limited to availability
NOTICE:
1.Wigtoday.com discourages any spam and will terminate an affiliate account if a valid complaint is reported.
2.Wigtoday does not allow affiliate members to use PPC (pay per click) ads or content ads in any search engine (Google, Yahoo, Bing, etc.) by using the Wigtoday brand name(Wigtoday or similar words) as keywords, or using the Wigtoday URL as the landing page for PPC ads or content ads. Neither is it allowed to send first-person emails that include our brand (Wigtoday or similar words). Any violation of the above terms will result in the cancelation of commission for the offending ads or emails.
3. Adult, Hate, or other related sites are not allowed!
4.You canot make orders with your referrer links which you created by yourself on our site, the orders will be cancelled.
5.Domain name advertising is forbidden, including key words like wig today, wigtodays.
6.Wigtoday.com reserves the right of final interpretation.